Woods View Cabin
Woods View – 5 Bedroom Vacation Home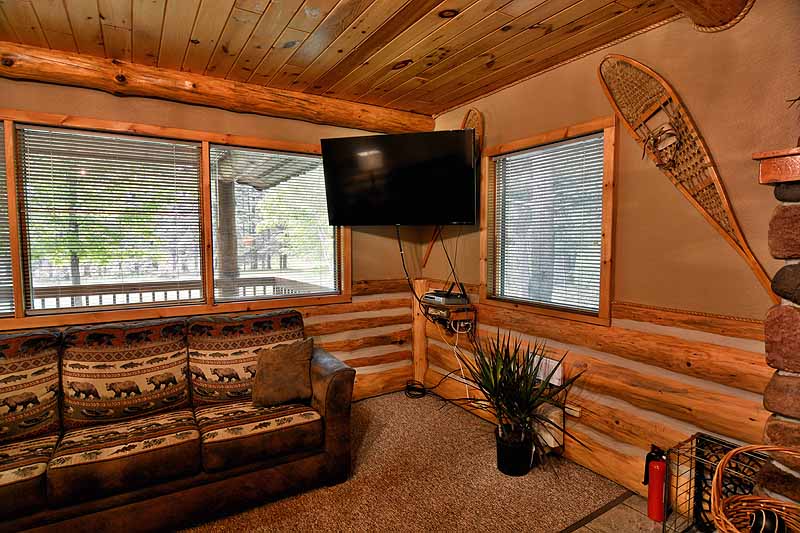 Located off the water in its own private setting, Woods View vacation home is a perfect lodging choice for groups and larger families. The 5 bedroom home is only a short distance from the lake (approximately 1/8th mile) and has designated docking space at the main lodge. The cedar-sided home is located next to a beautiful 100 acre forest and has plenty of parking space for vehicles and trailers. Enjoy some great wildlife viewing opportunities while relaxing on either of the two covered decks. Woods View also offers direct access to the snowmobile trail right from the home.
The knotty pine interior features log accents and a fieldstone, wood burning fireplace in the living room and central air. The spacious, carpeted living area includes comfortable furniture, ceiling fan, TV with Cable TV and a DVD player. Open kitchen and dining areas are tiled and included a complete kitchen with 4 burner electric stove, oven, microwave, toaster, coffeemaker, full size refrigerator/freezer and 8 person dining room table set.
There are 2 carpeted bedrooms with closets and 1 full bath on the main floor. One bedroom has 2 twin beds in it and the other bedroom has 1 twin bed and 1 queen bed. The main floor bath has a tub/shower.
The lower level of the home has 3 bedrooms and a second full bath. One bedroom has 1 double bed and 1 twin bed. Another bedroom has 2 twin beds and the last bedroom 1 queen bed and 1 twin bed. The second bath has a shower in it.
This spacious home is a good value in a convenient, secluded location for families, small groups, nature lovers, snowmobilers and skiers alike!
Television
• Smart TVs in all of the cottages
• Local Cable Television Programming is offered in the cottages. Click to view available channels.
• Basic Expanded Programming is offered in our lodge rooms
Internet
• Free wireless internet in each of our rentals
• 100/100mb at the cabins
• 300/100mb at the main lodge
Cell Phone Service
• Currently there is coverage with T-Mobile. Otherwise cell phone coverage is best described as 'spotty' with Verizon Wireless and other providers. Four Seasons offers Verizon network extenders for a rental fee of $50 for the length of your stay. The Network Extender is compatible with ALL Verizon Wireless phones as well as some handsets from many of the nation's leading carriers. Limited number of extenders available.
Peak Rates:
$369 (weekday)
$418 (weekend)
$2087 (weekly)

Add $50 extra per person
regardless of length of stay
30% Deposit Required
Stay with us in the spring (30%) and fall (15%) and SAVE off our peak season rates!
Our rates vary by season. The rates above are our peak rates and do not include taxes. For our rates at different times of the year, please visit our availability calendar.
For exact pricing, please enter your dates and check our availability calendar.
5 Bedrooms
(1 Queen, 2 Doubles, 7 Twins)
2 Baths
10 Person MAX
Features
Central air, dishwasher, cedar exterior with log accents, woodburning fireplace, pine interior also with log accents. Large kitchen and living area. Located 4 blocks off the water at the edge of a 100 acre forest.