Deluxe Housekeeping Cottages & Vacation Homes
Suite, Cabins and Vacation Home Rentals near Hayward, Wisconsin
Four Seasons Resort's suite, cottages and vacation homes on beautiful Lake Namakagon in Cable, Wisconsin include a custom fieldstone fireplace; Cable TV, complete kitchens, BBQ grill, deck and picnic tables. All cabins and vacation homes are located on the water with your own private pier (with the exception of the Woods View cabin which has docking available at the main lodge).
Description: TOTAL MAKEOVER! The Birch Suite is a newly remodeled 1 bedroom, 2 bath suite conveniently located next to our Main Lodge!
The single level cabin features a beautiful Northwoods rustic décor, spacious bedroom suite, full gourmet kitchen, 2 full baths and custom-built stone, wood burning fireplace.
Description: Bay Cottage is a warm and inviting 2 bedroom, 1 bath log-sided cottage located in a wooded setting among tall maples, oaks and birch trees only feet from the shores of Lake Namakagon.
River's Edge
2 bedrooms + loft | 2 baths | 1400 sq. ft | Lake/River
Description: River's Edge Cottage is a 1400 square foot, 2 bedroom + loft/ 2 bath cabin situated in the river with lake access.
The vacation home has large deck and covered porch, custom log and cedar exterior with pine and log interior. 2 spacious bedrooms + loft area (4 beds), 2 full baths, futon, Cable TV, washer/dryer. wireless internet and field stone fireplace.
Description: Spruce Cottage is 1200 square foot, 3 bedroom/1 bath cedar-sided cottage located on the Namakagon River.
This one floor cottage features 150 feet of frontage, a spacious yard, large deck, handicap accessibility, knotty pine interior and split stone fireplace, phone, Cable TV.
Bayview Loft
3 bedrooms + loft | 2 baths | 2800 sq. ft | Lake
Description: Bayview Loft has 400 feet of beautiful lake frontage, large wrap around deck and is handicap accessible.
Cedar exterior and knotty pine interior with two-story, split stone fireplace. 2800 square feet of living space with 3 bedrooms (10 beds), large loft and spacious kitchen, phone, Cable TV.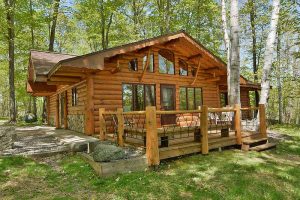 Description: Lakeside Loft has 500 feet of lake frontage, a deck overlooking the lake and large yard, log exterior, knotty pine interior with unique log beams and accents.
1,800 square feet of living space with 3 bedrooms + loft (9 beds), 2 full baths, phone, Cable TV and is handicap accessible.
Rustic Loft
3 bedrooms + loft | 2 baths | 1700 sq. ft | Lake
Description: Rustic Loft has a great view of the lake, boat lift, deck, cedar exterior with log accents and knotty pine interior.
1,700 square feet of living space with fieldstone fireplace, 3 bedrooms (10 beds), loft and 2 full baths, phone, Cable TV.
Description: Split Level Home has a spacious yard, 170 feet of frontage and 1500 square foot cedar deck.
The 3,500 square foot vacation home features two stone fireplaces, 2 complete kitchens, 2 full baths and 5 bedrooms (11 beds), phone, Cable TV.
Rates & Bookings
Your reservation is considered to be "secured" once we receive your required information, and we have received your deposit. You are agreeing at the time of booking to the reservation policy which can be found on our price sheet. A week long minimum is required for summer rentals of homes. A two night minimum stay is required on all non-holiday reservations at other times of the year. Holiday and special event weekend reservations have a 3 night minimum. Rates and descriptions are subject to change without notice. 5% state, 4% local room, ½% county taxes not included in the stated rates.
Staudemeyer's Four Seasons Resort reserves the right to cancel any reservations or substitute rental homes due to circumstances beyond our control. Should the home confirmed by the guest become unavailable for any reason whatsoever, Staudemeyer's Four Seasons Resort will inform the guest prior to check in and every attempt will be made to relocated guest to a comparable home.
Unit Policies
Each of our homes is furnished for your comfort and pleasure. Please respect and care for it as if it were your own. Pets will be allowed at a price of $85.00 per stay from April 2nd- November 14th and MUST NOT BE LEFT UNATTENDED IN HOMES! A $500.00 minimal damage charge WILL BE APPLIED when deemed necessary. We are one of the few resorts that will allow pets. Please keep your pet under control, and on a leash at all times (OUR insurance requires it), and please clean up after he visits the outdoors. In order to continue this policy we ask for your cooperation or we will be forced to have you leave your special addition to your family at home. For more detailed policies please visit our website (www.4seasonsresort.net). No pets allowed November 15th – April 1st. Laws with regard to pets of the handicapped will be honored.
Every effort is made to assure accurate descriptions of the properties. Staudemeyer's Four Seasons Resort is not responsible for errors in printing, changes made by Owners or matters out of Staudemeyer's Four Seasons Resort' control, e.g. noise, construction, weather, etc. Substitutions and refunds will not be made upon arrival for any reason except required by law.
There are occupancy limits for each home published on our website and included in the property description. These limits cannot be exceeded for any reason other than an infant. Exceeding the maximum specified occupancy breaches health and fire codes, and will result in termination of rental without refund of rent.
Remember all your belongings on your departure from the unit. Staudemeyer's Four Seasons Resort is not responsible for lost, damaged or stolen personal items left in the unit. A $50 service fee is charged in addition to shipping costs if we are required to mail your forgotten items.
Guests shall comply with all laws and keep premises as clean and safe as possible. Your home is located in a residential neighborhood and quiet time must be observed after 10PM. Please respect your neighbors.
Telephones
Some units may provide for an individual phone number and will be included on your confirmation letter. Please ask friends and family to contact you directly. There is no switch board service. No toll or long distance calls are to be made on the telephone in the home.
Check in and Check out
Check in is 4:00PM or later and Check Out is 9:00AM or earlier. During the summer season there are no exceptions to this policy. During any other season, it may be possible to arrange in advance for an earlier check in or later check out time without any additional charge. Your cooperation is appreciated vacating the cottages so we can prepare for the next guest. We do our best to have our entire accommodations ready by 4PM, if some unforeseen event arises that is beyond our control, there may be an exception to the check in time. Thank you for your cooperation.
Payments and Deposits
A rental Deposit is due upon within seven days of making a reservation and is payable by check, money order, VISA, and/or Master Card. No reservation can be fully confirmed until receipt of the deposit. Balance of rent is due upon arrival.
When paying advance rent by check, please limit it to one check per reservation.
Cancellations
The purpose of a deposit is to insure the accommodations are reserved for you, the vacationer. You are responsible for the dates you reserved. NO credit will be given for late arrivals or early departures. Your deposit will be applied to the FIRST and LAST day of your reservation.
To avoid any misunderstanding, you will be charged for the number of nights reserved.
Summer Cancelations after January 1st
Deposits will only be returned when the space if filled. (Less 25% administration fee) Winter Cancellations are due 60 prior to arrival for deposit returns. Deposits will only be returned when the space if filled. (Less 25% administration fee)
All notices of cancellation must be received in writing for the guest's protection. There are no refunds due to natural or man – made disaster, electrical blackouts, storms, snow blockage, road closures or any other event out of Staudemeyer's Four Seasons Resort control.
Reservation Priority for our Repeat Guests
As a special service to our valued guests, you have the first option to reserve the same property, for the same time next year (many of our guests have made their lake vacations a family tradition year after year in the same property). Give us a call or stop by our office, during your stay. Reservations can be made 1 year in advance.
Without a deposit, the cottage becomes open to the public for booking at the time of your departure.
Housekeeping services
Our units are professionally cleaned after each stay. We do not provide daily maid service. Additional housekeeping services may be arranged for an additional fee.
Emergencies
For a true emergency dial 911. For 24 hour emergency management services call Staudemeyer's Four Seasons Resort: 715-798-2346
Maintenance
Please report any inoperative equipment in your vacation home to Staudemeyer's Four Seasons Resort immediately. We will make every reasonable effort to have the problem corrected.
Television
• Smart TVs in all of the cottages
• Local Cable Television Programming is offered in the cottages. Click to view available channels.
• Basic Expanded Programming is offered in our lodge rooms
Internet
• Free wireless internet in each of our rentals
• 100/100mb at the cabins
• 300/100mb at the main lodge
Cell Phone Service
• Currently there is coverage with T-Mobile. Otherwise cell phone coverage is best described as 'spotty' with Verizon Wireless and other providers. Four Seasons offers Verizon network extenders for a rental fee of $50 for the length of your stay. The Network Extender is compatible with ALL Verizon Wireless phones as well as some handsets from many of the nation's leading carriers. Limited number of extenders available.