Bayview Loft
Bayview Loft – 3 Bedroom Vacation Home on Lake Namakagon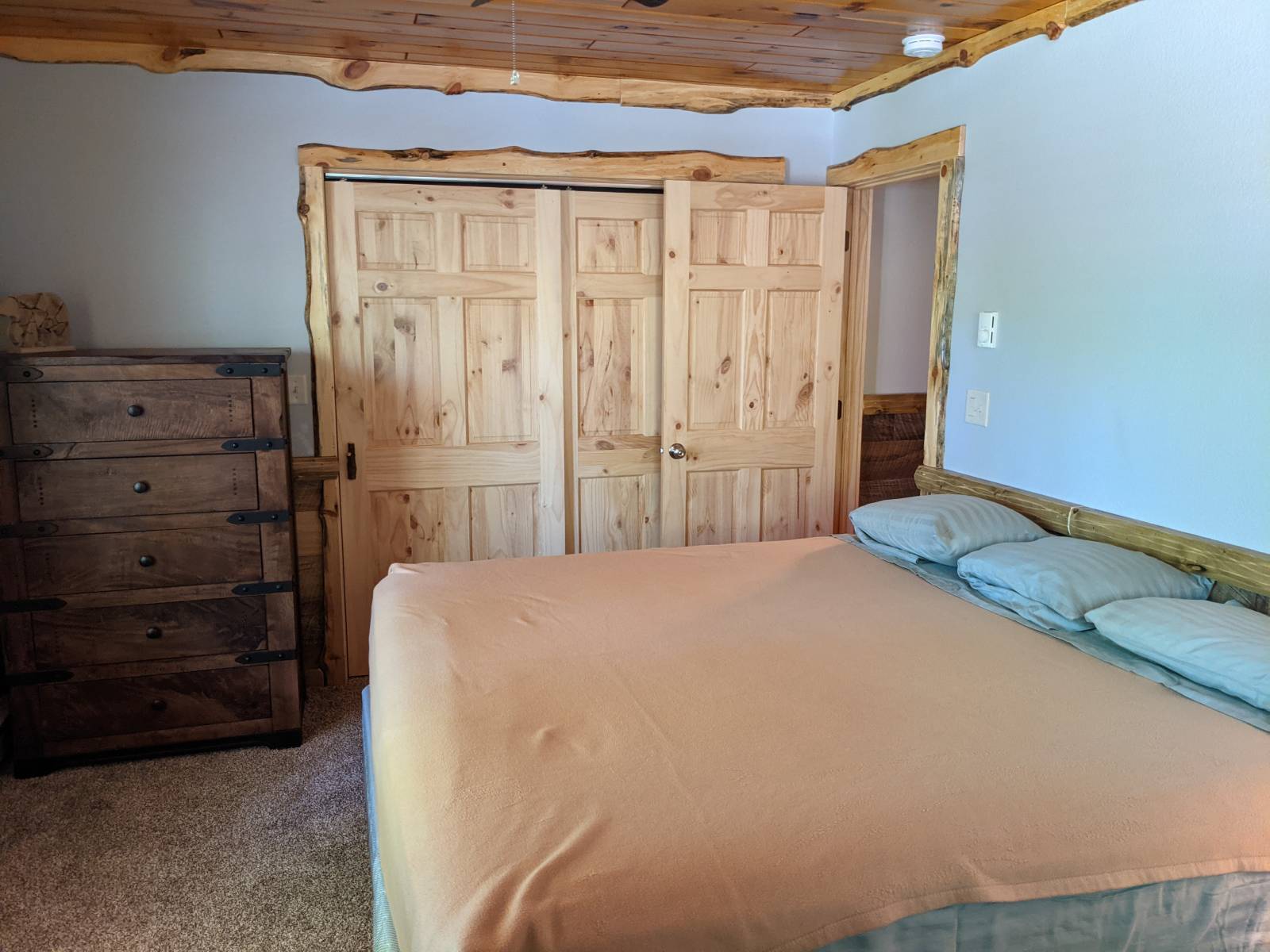 Bayview Loft is a spacious, 2 story vacation home set in a wooded location only feet from Lake Namakagon. The level yard outlined by mature birch, maple and pine trees leads to 400 feet of picturesque frontage on popular Lake Namakagon. Fish from your own private dock and enjoy convenient boat access to this fantastic recreational lake! There is also plenty of parking for vehicles, trailers and snowmobiles.
A handicap accessible wooden deck wraps ¾'s of the way around the cedar sided exterior of Bayview Loft. With neighbors on only one side and woods on the other, the deck with its picnic table and charcoal grill is a perfect spot to watch the morning sun rise over the lake or to enjoy a quiet meal. The deck is connected to the spacious interior of the home via a walkout door where the beautiful view of the lake is framed by numerous lakeside windows.
The roomy, 2800 square foot interior includes an open great room that rises to a vaulted, knotty pine ceiling. An eye-catching, two-story split stone fireplace and soothing color scheme add to the Northwood's ambiance and warmth of the great room. The carpeted living area includes two couches and two chairs gathered around a large, flat screen TV with Cable TV and DVD player. The spacious kitchen has a tiled floor, phone, 4 burner electric stove, oven, dishwasher, toaster, coffeemaker, microwave and full refrigerator/freezer. You can move freely between the kitchen and the dining room table or easily access the deck from the kitchen/dining area.   There is also an air-conditioning wall unit which services the home during those warmer days.
With 10 beds, 3 separate bedrooms and an open loft, Bayview Loft has plenty of room to sleep larger families and small groups. The first floor has 2 bedrooms and 1 full bath. The first bedroom has 1 twin bed, 1 King bed and 2 closets. The second bedroom has 1 twin bed, 1 King bed and a closet. The full bath on the first floor has a sit-shower, double sinks and a stack-able washer/dryer..
The second floor includes a third bedroom, carpeted loft area with ceiling fan and another full bath. The bedroom has a queen bed while the open loft area has 1 King, 4 twin beds. The second full bath has a tub/shower in it.
Bayview Loft offers a beautiful, quiet Northwood's setting close to the shores of Lake Namakagon and is an ideal getaway for a couple, family or small group!
Television
• Smart TVs in all of the cottages
• Local Cable Television Programming is offered in the cottages. Click to view available channels.
• Basic Expanded Programming is offered in our lodge rooms
Internet
• Free wireless internet in each of our rentals
• 100/100mb at the cabins
• 300/100mb at the main lodge
Cell Phone Service
• Currently there is coverage with T-Mobile. Otherwise cell phone coverage is best described as 'spotty' with Verizon Wireless and other providers. Four Seasons offers Verizon network extenders for a rental fee of $50 for the length of your stay. The Network Extender is compatible with ALL Verizon Wireless phones as well as some handsets from many of the nation's leading carriers. Limited number of extenders available.
Rates based on 10 people
Max Occupancy 12
Peak Rates:
$505(weekday)
$524 (weekend)
$2980 (weekly)

Add $50 extra per person
regardless of length of stay
30% Deposit Required
Stay with us in the spring (30%) and fall (15%) and SAVE off our peak season rates!
Our rates vary by season. The rates above are our peak rates and do not include taxes. For our rates at different times of the year, please visit our availability calendar.
For exact pricing, please enter your dates and check our availability calendar.
3 Bedrooms + Loft
(3 King, 1 Queen, 6 Twins)
2 Baths
12 Person MAX
Features
Roomy chalet style home, telephone, tail split stone woodburning fireplace, handicap accessible with great year-round fishing right off your dock. Knotty pine interior featuring a cedar exterior.